In Astana has opened the park of the professions "JOBS TOWN"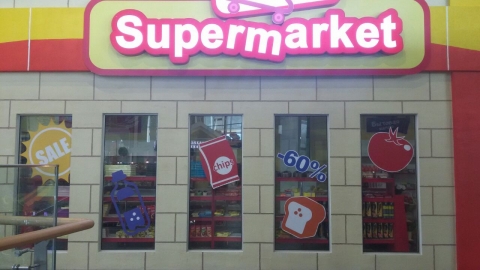 Friends, in family entertainment center MEGA SILK WAY in Astana, the park of the professions "JOBS TOWN" has opened.
It is the territory, where the child in playful way masters this or that profession. Contributes the development of feeling to respect the very simple professions, but important and necessary for the country, such as doctor, police officer, cooker, builder, seller, etc.
So, playing in the SUPERMARKET Station, children in simple and fascinating form learn simple items, which are pawned in the product values such important and significant:
 everything has to be fresher
 purity
 variety
 affordable prices
Our company with pleasure responded and took part in this project. It will be not supermarket if in it there is no tasty ASSAM tea!))
You will distinguish specially prepared models, which are as close as possible on weight and by the sizes from original packs. We tried, everything has to be on the present, as at adults!)
Now even our little consumers will be able "to buy" tea of favourite brand in playful way.