The 'Tea House' company presents to your attention a New Product! Gift set "TEAHOUSE" Premium.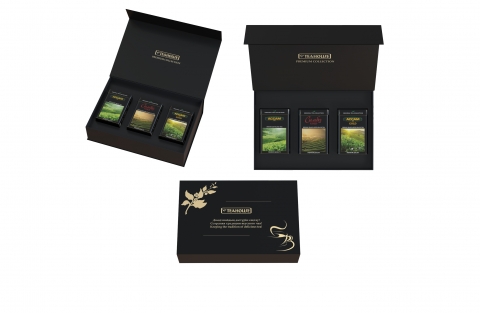 The "TEAHOUSE" Premium set is a great gift for business partners, as well as relatives and friends who want to please with a delicious gift in an impeccable design, emphasizing the high status of the consumer.
The "TeaHouse" Premium gift set is presented in the form of a box made of luxury quality designer paper. Inside the box are three tins of tea, made according to an individual author's special order. The tea itself is additionally packaged in branded foil, which preserves the fullness of the taste and aroma of the tea.
Set Composition:
"Assam GOLD" – black granulated. High-quality tea from the best plantations in Assam. Excellent color and delicate aroma – the perfect combination for the best tea.
"Simba Gold" - black granulated-is a selected Kenyan tea of the highest quality, collected from the best high-altitude plantations. Flavorful and incredibly delicious.
"Assam GOLD Leaf" – black leaf. Bright pronounced taste. Unique aroma, ideal for those tea lovers who prefer to drink it without milk.
The net weight of the set is 300 g.